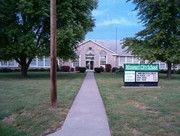 Missouri City School District is a small K-8 school district in the Kansas City Metropolitan Area. It is the smallest school district in Missouri, and was established in 1854. Over the years the school has survived the periodic consolidation movements due to the devotion of the local populace who are committed to having their own neighborhood school with high expectations for each child. After 8th grade the students go to High School at one of two excellent neighboring districts, Excelsior Springs and Liberty.

Our District is rated "fully accredited with distinction" under the current State accreditation system. Under the old system it was rated AAA, the highest rating.
Missouri City first received AAA status in 1987, becoming the smallest AAA school district in Missouri, and was acknowledged in this accolade by the United States Secretary of Education, Dr. William J. Bennett, in a ceremony at Missouri City School. As a result, Missouri City was propelled into the media spotlight and was the focus of much media attention. Missouri City school has been highlighted in Newsweek Magazine, The New York Times and was the subject of a feature article in Reader's Digest.

Missouri City is the only school district outside of the Kansas City School District to have participated in their Desegregation Program, being involved from 1990 through 2002. In a Voluntary Transfer Program 20 students from KCMSD came to the then 85 student district.

In 1995 our "Luxembourg Library" was opened. It was a gift from the people of Luxembourg, after the devastating flood of 1993. The gift was in honor of their country being liberated by General Patton in the World War II Battle of the Bulge.

We remain a healthy school district led by a strong local Board of Education.